GPR Process: This is the workhorse for GPR processing that make the amplitude maps.  It must use reflection profiles that are in .dzt format (GSSI).  We now have the ability to convert Mala, Sensors and Software and soon IDS profiles to .dzt format within the GPR Viewer software (linked below).  The instructions on how to do that are in the GPR Viewer manual at the very end.  
Click on the highlighted links below for the software and instructions, which are zipped together: 
GPR Viewer: This program will process individual reflection profiles.
GprViewer:  GPR_viewer_2017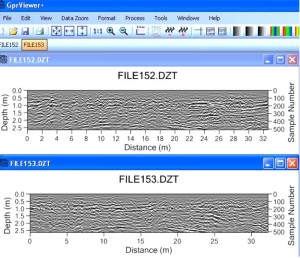 re-gains profiles, remove background, change scales and convert times to depth
adjust for topography, calculate velocity from hyperbolas and do other common processing steps
produce images of profiles for publications
We also have a number of other software programs that do data processing such as migration and frequency filtering.  This is a map showing how some of these processing programs can significantly clean up and enhance reflections prior to slicing and producing images.  You will have to write me for information about these more esoteric programs.  See some slice maps I produced below that illustrate what can be done with this type of data processing: